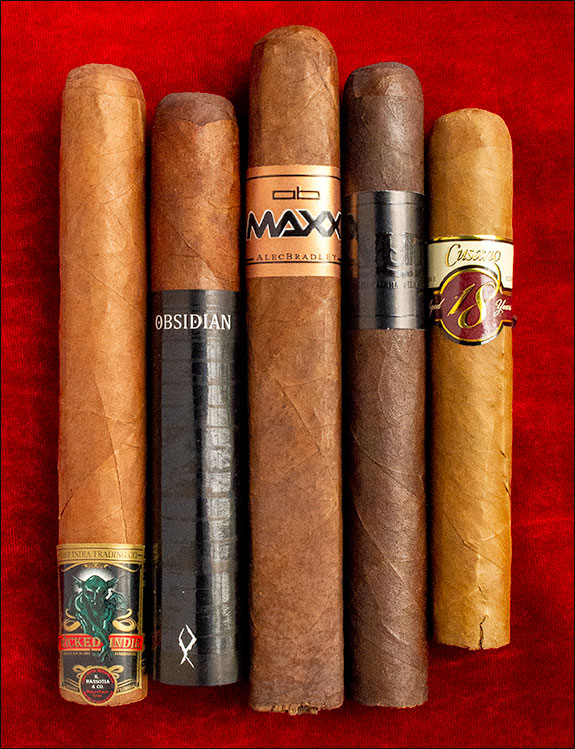 The Rules.
Each month, a group of experienced cigar smokers participate in tastings of five new cigars. All smoke one of the selected cigars each day, and it is the first cigar of the day. All cigars are paired only with water, and are purchased at the same time from the same vendor. The cigars are stored for at least two weeks in a humidor prior to smoking. Everyone follows strict scoring guidelines. Taste is weighted heavily (50%), followed by construction (10%), draw (10%), burn (10%), and taste evolution (20%). Additional points are awarded for uniqueness or that intangible "wow factor".
Why a committee?
Cigar reviews are very subjective, and influenced by the smoker's environment (see When Good Cigars Taste Bad, part 2). In a committee review, the results are averaged over all participants, providing a better yardstick to measure a cigar's quality. In addition to a numerical ranking, each review will include tasting notes by each of the committee members. This should help in determining if these new cigars are worth purchasing.


Gurkha Wicked Indie Toro 6×54
This creamy cigar was enjoyed by everyone, although only one rated it in the 90s. Flavors of malt, honey, and cashews were present to the nub. A nice morning cigar.
Strength: 4 out of 10
Wrapper: Nic. Habano; Binder: Nic.; Filler: Nic.; Blender: K. Hansotia; Origin: Nic.; MSRP: $5.20


Obsidian Robusto 5.5×54

With dark chocolate notes, some found this cigar bitter. Most agreed it was a complex smoke with additional flavors of nuts, leather, black pepper, and espresso.
Strength: 6 out of 10
Wrapper: Brazilian Habano; Binder: Criollo 98; Filler: DR/Nic.; Blender: Pinar Del Rio Cigars; Origin: DR; MSRP: $7.50



Alec Bradley Maxx Vice (circa 2012, no long available) 6.5×62
The splitting and peeling wrapper, and uneven burn, hurt the ratings on this otherwise flavorful cigar. Notes of sweet condensed milk, malt, and leather were detected.,
Strength: 5 out of 10
Wrapper: Nic. Habano; Binder: Costa Rica, Columbia.; Filler: Nic., Columbia, Mex.,Hon.; Blender: Alec Bradley Cigars; Origin: Hon.; MSRP: $8.00



Vudu (circa 2010, no longer available) 6×50

Three reviewers loved this cigar, while two found it acidic. Deep unsweetened chocolate notes predominated, with a pepper finish.
Strength: 7.5 out of 10
Wrapper: Mex. Maduro; Binder: Nic; Filler: Nic. ; Blender: Amilcar P. Castro; Origin: Nic.; MSRP: $4.00




Cusano 18 Year Natural Robusto 5×50
This cigar was reviled by some while others found it interesting. Flavors ranged from bitter coffee and toasted marshmallow, to wet dog, and bathroom cleaning chemicals.
Strength: 3 out of 10
Wrapper: Conn. shade; Binder: Conn.; Filler: DR; Blender: Davidoff; Origin: DR.; MSRP: $6.20

Rating Legend:
0-74 = Unsmokeable
75-79 = Disappointing
80-84 = Average
85-89 = Very Good
90-94 = Excellent
95-100 = Outstanding