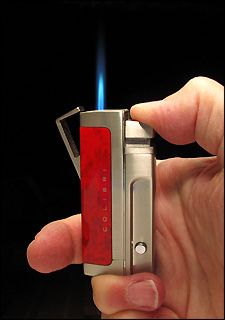 Cigar torch lighters are a finicky bunch. Like stubborn Jack Russell terriers, some seem to obey only when they feel like it. Upon publishing In Pursuit of the Perfect Cigar Lighter, some readers have requested a follow-up article about cigar lighter maintenance. So from my own personal experience with dozens of lighters, and conversations with knowledgeable B&M owners, please find below some tried and true tips on Keeping the Flame Alive.
1) Use only multi-refined butane. This is as important as using the correct gasoline in your expensive sports car. Readily available at any B&M and online, multi-refined butane burns cleaner, and helps keep your torch's nozzle from getting clogged.
A clogged nozzle is a death sentence for a torch lighter. Once clogged, the flow of butane gets restricted and the lighter will stop producing a flame. Even though a hissing sound can be heard, a contaminated nozzle diminishes the flow rate to the failure point. Once this happens, no amount of blowing, prodding, or praying will restore your lighter to its original performance level.
2) Protect your lighter from the elements. Don't leave it outside overnight; don't leave it in your hot/cold car, and keep it out of direct sunlight.
First of all, unlike cigars, torch lighters don't like moisture. The nozzle needs to be dry to perform as condensation inside the nozzle can cause a misfire. The good news is that moisture doesn't permanently ruin a lighter. Drying it even for a short period of time can cure this ailment. Secondly, butane performs best at room temperatures. My suggestion is to keep the lighter in a pocket between touchups. This keeps it dry and warm. Thirdly, don't leave a lighter in a hot car. This is a ruinous environment for just about anything, including torch lighters. There are many plastic parts in the modern cigar lighter that can deform in the extreme heat of an enclosed, sun exposed, automobile. Even an expensive lighter can lose its good looks if warped by an overheated environment. Also, any prolonged sunlight exposure can harm a delicate torch lighter. And this is true even on a mild day. So I suggest not leaving your beloved lighter to "tan" in the sun.
3) Purging. Sometimes when filling our cigar lighters with butane, we inadvertently introduce air into the fuel tank, causing misfires and flameouts. If this happens, purging (bleeding) the lighter of trapped air is the remedy. There are many techniques to purging and some require emptying the lighter and using probes to depress the fueling valve. But there is a simple refueling technique that actually purges while refueling, resulting in good lighter performance with less lighter maintenance. Here we go:
With the lighter upside down and the butane canister directly above the lighter (it is very important that it not be at any angle above the lighter), quickly depress the canister down onto the lighter's fuel intake valve. The empty lighter will begin filling immediately and will fill quickly.
The lighter will then sputter as it reaches full capacity and eventually expel excess liquid butane from around the nozzle. At that point work the canister up and down a half dozen times in rapid succession. As you do, the fuel will spray and drip all over the place…this is a good thing. It is these rapid depressions that will simultaneously purge and refuel the lighter. Your lighter's fuel tank will then be filled to capacity and only a small air bubble should be visible in the fuel level window.
But it's important to emphasize that refueling your lighter is a messy job and if it's not, then your lighter isn't getting completely filled. If this practice is applied with each refuel, the lighter should perform well, provided it has a clean nozzle. BTW, liquid butane will not harm the finish of a lighter and any white residue is easily wiped off.
4) Let the lighter reach room temperature after refueling. My physics is a little rusty, but all the manufacturers state that a cold lighter doesn't perform well and we should let them warm up after refueling (which makes them very cold, again, physics is not my thing). But I have learned that butane has a boiling point of 31 degrees Fahrenheit, which means that a lighter used in the cold weather will not work well at all. Butane will stay liquid below that temperature, so on that blustery day, that shirt pocket inside your coat is a warm and cozy place to keep your lighter.
5) Don't store lighters with fuel in them. Over time, unused fuel that has been left in cigar lighters can get "funky" leading to poor performance. Additionally, Eric from The Big Easy Cigar Sanctuary says that some new lighters that are shipped by the manufacturer, and contain fuel, can have compromised performance. He suggests that if we buy a lighter and it doesn't work well, send it back. Chances are it will never perform as desired so we should take advantage of any exchange policy before it expires. With this in mind, a cigar lighter we deem as bad, might simply need to be exchanged for another.
6) Clean the nozzle. Cigar lighters do a dirty job, in a dirty environment. So it stands to reason that things like lint and ash can contaminate the nozzle of a torch lighter.
A routine of blowing out debris from the nozzle is helpful to insure optimum performance of a lighter. The "canned air" that is sold at any office supply store is perfect for this. But it's important to follow the safety rules written on the can. And never tilt it when blowing or fluid will spray all over your lighter. Not a good thing.
7) Adjust the flame…then leave it alone. Cigar lighters are simple devices and have very few moving parts. But one part that does move is better off left untouched. The flame level adjustment "wheel" is a nice feature but one that can wear out quickly. Once this happens our options become limited to either too much flame or too little. So my advice it to set it and forget it. (The practice of lowering the flame adjustment to refuel is one I don't recommend, and find it to be unnecessary).
The Cigar Lighter Maintenance tips listed here should serve as useful guidelines for getting the most out of our lighters. If I've left anything out, please let me know in the comments section. Even a simple tip can be very useful.
Happy smokes,
Joe