Who is Robustojoe?
Robustojoe is you…Robustojoe is me…Robustojoe is everyone who loves all things cigar.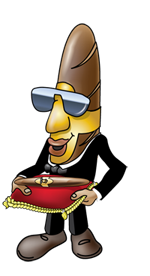 He has an insatiable curiosity about life and a passion for not only cigar smoking, but also cigar cultivation and culture.  But most importantly he is someone who needs to see things first hand.
Not satisfied to take someone's word for it, he needs to see for himself why things are the way they are. Unfortunately, this curiosity can drive him to distraction when confronted with a question to which no answer is apparent.  This is what empirical cigar smoking is all about: finding answers though experimentation and then drawing a conclusion.
Robustojoe is not a scientist nor an expert, but someone who, by trial and error, can offer ideas about questions many of us have pondered.  His conclusions are not offered as absolute truths, but rather theories based on the results of his own experimentation.   Sometimes the experiments are literal, other times abstract.  His comparisons and observations are not meant as reviews, but rather ways of looking at things from new angles.
But in the end, Robustojoe is a simple guy, enjoying life, one cigar at a time, just like you and me.
ABOUT THE AUTHOR
Born in 1951 and raised in New York City, I am a product of life in the big city…the good stuff and the bad.  Things I was accustomed to growing up I can now barely tolerate, i.e. noise, commotion, traffic and long lines at the movies.  Yet the city has given me a world of culture and a lust for diversity.  Some early memories are of public service TV announcements telling me to "Duck and Cover" (as if that was going to save me in the event of a nuclear holocaust), and the assassination of President John F. Kennedy.  Then there was the British invasion and combing my hair to look like a Beatle and learning to play Eight Days a Week on the guitar.  Soon after followed Woodstock and the mind-altering effects of the sixties (both literally and figuratively) and the sexual revolution that, as a guitar-playing teenager, I was able to exploit to the fullest.  Next was music school in Boston, cover bands, and food stamps.
Ultimately my interest in music led me to a career in music engineering and production which was certainly more lucrative than struggling as a guitar player.  Some highlights of that period are records (yes they were actual vinyl records) with Michael Bolton, Cher, Ratt, Alice Cooper, Joan Jett, John Waite, Bonnie Tyler, and what seemed like just about every band that ever made a demo in NYC during the 80's.  The music business would ultimately lead me to Los Angeles, and I've been living here since the early nineties.  Eventually the demands of fatherhood precipitated a career change into audio post-production and I am currently mixing sound for TV in Los Angeles.
So here I am, not having fully escaped the things I can't tolerate, but with a new way of dealing with life in the big city…I smoke cigars.  While New Yorkers and Los Angelenos continue to have a rivalry, one advantage Beverly Hills has over Manhattan is the ability to sit in the backyard and smoke a cigar…ALL YEAR LONG!   I love LA.
So here I sit, in Los Angeles, smoking a great cigar and enjoying life to the fullest.  This peaceful endeavor of smoking a fine cigar is a great respite from the struggles of living in these challenging times, no matter where you live.  So with all the new cigar makers and blends to discover, let's embark on this exciting journey together and in brotherhood be forever, Empirical Cigar Smokers.