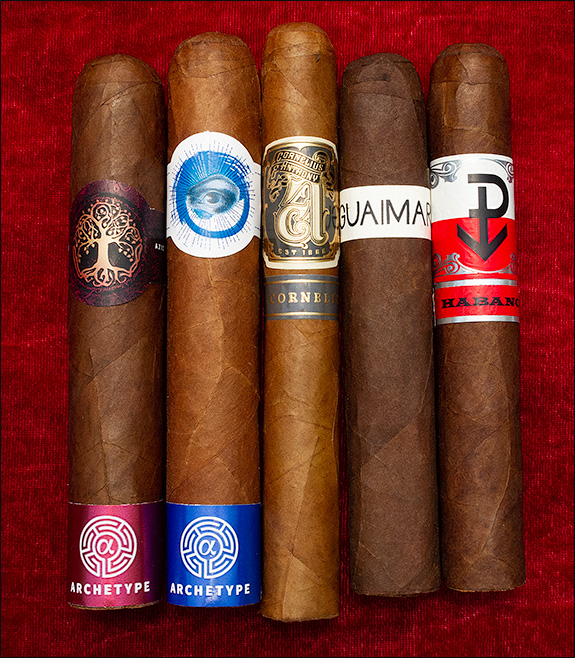 The Rules.
Each month, a group of experienced cigar smokers participate in tastings of five new cigars. All smoke one of the selected cigars each day, and it is the first cigar of the day. All cigars are paired only with water, and are purchased at the same time from the same vendor. The cigars are stored for at least two weeks in a humidor prior to smoking. Everyone follows strict scoring guidelines. Taste is weighted heavily (50%), followed by construction (10%), draw (10%), burn (10%), and taste evolution (20%). Additional points are awarded for uniqueness or that intangible "wow factor".
Why a committee?
Cigar reviews are very subjective, and influenced by the smoker's environment (see When Good Cigars Taste Bad, part 2), personal taste, pairings, and mood. In a committee review, the results are averaged over all participants, providing a better yardstick to measure a cigar's quality. In addition to a numerical ranking, each review will include tasting notes by each of the committee members. This should help the reader determine if these new cigars are worth purchasing.


Archetype Axis Mundi Robusto Maduro 5×54
Most everyone agreed this stick started out more promising that it finished. Flavors included bitter cocoa, charcoal, leather, and baking spice.
Strength: 6 out of 10
Wrapper: Ecuadorian Habano; Binder: Nic.; Filler: Nic.; Blender: Drew Estate; Origin: Nic.; MSRP: $12.49


Archetype Sage Advice Robusto 5.25×54

With flavors described as "off" or grassy, this mild cigar didn't offer much. However, one reviewer enjoyed it enough to bring the overall score up from the basement.
Strength: 3 out of 10
Wrapper: Ecuadorian Hybrid Habano; Binder: DR; Filler: Proprietary.; Blender: Henke Kelner; Origin: DR; MSRP: $12.03



Cornelius and Anthony Cornelius Corona Gorda 5.5×46
Four out of five reviewers enjoyed this cigar, while one gave it the lowest possible rating, bringing down the overall score. Flavors included oak, anise, cardamom, and black tea. A somewhat uneven burn required frequent corrections.
Strength: 5 out of 10
Wrapper: Ecuadorian Habano; Binder: Ecuador; Filler: Nic.; Blender: Steven Bailey; Origin: Nic.; MSRP: $12.60



Guaimaro Robusto 5×52

With strong flavors of malt, toasted tobacco, and unsweetened chocolate, this cigar had a lot going for it. Tons of smoke with a long finish.
Strength: 7 out of 10
Wrapper: San Andres; Binder: Brazil; Filler: Nic./DR ; Blender: Nica Sueno; Origin: Nic.; MSRP: $7.25




Powstanie Habano Robusto 5×50
Although well constructed, this cigar had an overpowering earthy flavor and lacked balance. It also tended to burn hot.
Strength: 8 out of 10
Wrapper: Ecuadorian Habano; Binder: Indonesia; Filler: Nic.; Blender: Nica Sueno; Origin: Nic.; MSRP: $9.00

Rating Legend:
100-95 = Outstanding
94-90 = Excellent
89-85 = Very Good
84-80 = Average
79-75 = Disappointing
74 (lowest possible score) = Un-smokeable