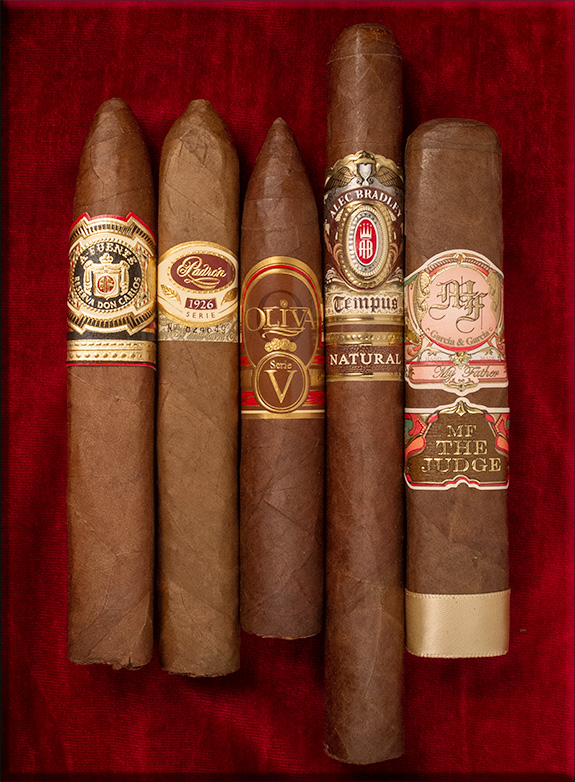 The Rules.
Each month, a group of experienced cigar smokers participate in tastings of five new cigars. All smoke one of the selected cigars each day, and it is the first cigar of the day. All cigars are paired only with water, and are purchased at the same time from the same vendor. The cigars are stored for at least two weeks in a humidor prior to smoking. Everyone follows strict scoring guidelines. Taste is weighted heavily (50%), followed by construction (10%), draw (10%), burn (10%), and taste evolution (20%). Additional points are awarded for uniqueness or that intangible "wow factor".
Why a committee?
Cigar reviews are very subjective, and influenced by the smoker's environment (see When Good Cigars Taste Bad, part 2), personal taste, pairings, and mood. In a committee review, the results are averaged over all participants, providing a better yardstick to measure a cigar's quality. In addition to a numerical ranking, each review will include tasting notes by each of the committee members. This should help the reader determine if these new cigars are worth purchasing.

Arturo Fuente Don Carlos Eye of the Shark (5.75 x 52)
As a square pressed torpedo of large diameter, this cigar is striking. But its shape may have contributed to its uneven burn and flakey ash. However, with lots of creamy smoke, this cigar pleased just about everyone. Flavors include latte, soft pretzel, dried fruit, and cinnamon toast. It's a "comfort food" cigar.
Strength: 6 out of 10
Wrapper: Cameroon; Binder: DR.; Filler: DR.; Blender: Fuente; Origin: DR.; MSRP: $14.62


Padron 1926 Series No. 2 Belicoso Natural (5.5 x 52)
Solid construction and complexity gave this cigar high marks. Notes of white pepper, leather, baker's cocoa, and earth prevailed. Although, some harshness and a tarry residue compromised some smoker's experience.
Strength: 7 out of 10
Wrapper: Nic. Habano; Binder: Nic.; Filler: Nic.; Blender: Padron; Origin: Nic.; MSRP: $21.60


Oliva Serie V Belicoso (5 x 54)
With one reviewer giving the lowest score possible, and another at the upper limit, it's best to say the reviews of this cigar were mixed. Flavors ranged from sweet tomatoes, bitter orange zest, leather, and earth, to sour fruit and grapefruit. Construction was generally solid.
Strength: 6 out of 10
Wrapper: Nic. Sungrown Habano; Binder: Nic.; Filler: Nic.; Blender: Oliva; Origin: Nic.; MSRP: $8.53


Alec Bradley Tempus Natural Centuria (7 x 49)
Had this cigar been draw tested, it would have scored better. Everyone had issues. Flavors of cinnamon, cola, cream, and unsweetened cocoa, but two smokers "Artied" it when flavor faded.
Strength: 4 out of 10
Wrapper: Honduran Criollo; Binder: Indonesia.; Filler: Nic/Hon.; Blender: Alan Rubin; Origin: Hon.; MSRP: $8.00



My Father The Judge Grand Robusto (5 x 60)
Good construction and tons of flavor made this fat, box pressed robusto quite enjoyable. Notes of leather, oak, herbs, dark chocolate, and salty sweetness. Umami abounds in this well-made cigar.
Strength: 7 out of 10
Wrapper: Ecuadorian Sumatra Oscuro; Binder: Nic.; Filler: Nic.; Blender: Jamie Garcia; Origin: Nic.; MSRP: $12.40

---
Rating Legend:
100-95 = Outstanding
94-90 = Excellent
89-85 = Very Good
84-80 = Average
79-75 = Disappointing
74 (lowest possible score) = Un-smokeable