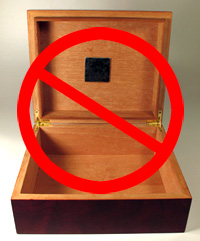 The trouble with cigar humidors…
To some avid cigar smokers, cigar humidors can multiply like rabbits.  When I first started smoking cigars I had one lonely box on a desk, and before I knew it, I had acquired more humidors than I had places to put them.  But that's a natural evolution for a cigar-lover, especially one who follows ratings and recommendations of online cigar reviews (and is always buying new cigars faster than can be consumed).
When we first get started with the cigar obsession, many of us buy the least expensive humidor we can find.  After all, we start with only a handful of cigars, often recommended by a cigar store clerk who also directs us to a humidor in which to keep them.  He tells us about conditioning the box and instructs us to put that 50/50 solution in the black rectangular sponge thing.  But what he doesn't tell us is that the humidor is barely suited to protect and condition our cigars.  The problems are not obvious because even inferior humidors can look beautiful.  That's how the manufactures get us to buy them.  Conversely, expensive humidors can have the same deficiencies as that of the cheaper ones.
So what makes a humidor effective?
There are two major differences between an inferior humidor and a "real" humidor.  (Real being one designed to adequately protect your cigars).  One is wall thickness and the other being a lining of Spanish cedar planks rather than a thin veneer.  It stands to reason that the thicker the wall, the more moisture retention the humidor will have, and this is certainly true.  But the addition of cedar planks will not only add more wall thickness to the humidor, it will also keep the cigars further from the materials used to construct the box.  Today's humidors are often made from particleboard and not from solid wood.  (The highest quality humidors are made from solid wood but can be prohibitively expensive).  Particleboard is made from wood scraps left over from sawmills, combined with a binding agent and pressed into thick sheets.  Although the resins used to make particleboard are considered environmentally safe, it does contain formaldehyde.[i] (I'd rather my cigars not spend years in a formaldehyde environment, but that's just me.  So the barrier of additional cedar seems desirable.)  But most importantly, particleboard is not resistant to moisture.  This translates to poor moisture containment within the humidor.  The addition of a layer of solid Spanish cedar adds insulation and helps to maintain the humidors desired internal humidity.
And there is another weak link in many humidors, even some with cedar plank lining.  That is the very thin wood used at the bottom of the boxes.  I have eleven humidors and many of them have this hidden flaw.
But there is hope…
If you are a little handy and have a miter box, you can turn an inexpensive humidor into a "real" humidor.  By performing an Ebay search for "Spanish cedar" you can usually find people selling exactly what you need…inexpensive ¼ inch planks of kiln dried Spanish cedar.  By measuring and cutting you can create a true cedar lining and a thicker, more protective humidor bottom.  And the improvement is well worth the effort.  The additional insulation will help the humidor retain moisture and the internal humidity will be more reliable.  As a result, your cigars will be better conditioned, which in turn will age them properly.
When buying a new humidor…
When buying new humidors it is good to look for boxes that have these features, and price is not necessarily an indicator of quality.  Some cheap humidors have them while some expensive ones don't.  It has been my experience that when researched, it is possible to get a very good humidor at a very reasonable price and, invariably, the boxes with the thick, cedar lining will give the best performance.  Sometimes they require additional wood on the bottom but if the humidor is kept in a stable environment, and on a solid piece of furniture, the bottom modification is not that crucial.
Joes recommendation…
Of all the humidors I've gotten over the years, I have two favorites.  The first being my beat-up, used from Ebay, Diamond Crown humidors.  They have thick cedar lining on the sides and bottom, and retain moister beautifully (but they tend to be small).  The other recommendation is the Treasure Dome humidor.  It's got great features, is very effective, and can store a large number of cigars…it's huge for a desktop humidor.  A staple of cigarbid.com (search for Treasure Dome), it has a "Quick Buy" price of $100 and if the timing is right, you can get it for even less.
Hope this was helpful.  Happy smoking.
Joe
---
[i] Online article about particleboard.