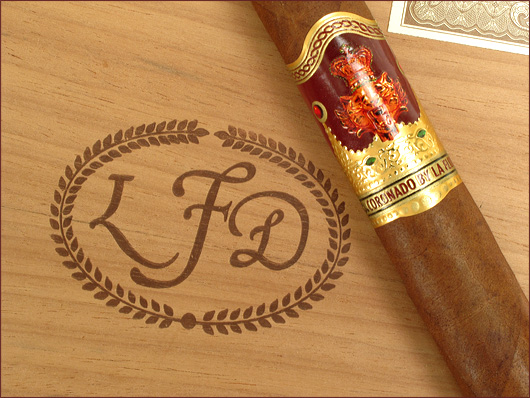 Brand: Coronado by La Flor (Dominicana)
Vitola: Double Corona
Wrapper: Nicaraguan Habano (Jalapa)
Box date: 2007
Blender: Litto Gomez
Strength: Medium – Full
Okay, I admit it…I pay attention to the Cigar Aficionado ratings. It's good information about good cigars and when a stick makes it to the top ten in a year's best list, my interest is piqued even further.
That's what brought me to the Coronado by La Flor, rated #2 in CA's Best 25 Cigars of the Year 2006. Its reasonable price and availability made it an easy purchase and I eventually bought a box of the 2007 vintage.[i] This past Thanksgiving I wanted to smoke a cigar that would go well with the turkey dinner and the Coronado came to mind. Not heavy with a ton of spice, the woody

Dominican character of this cigar seemed a good match for a filling meal of turkey, stuffing, mashed potatoes, and pumpkin pie.
Right from the box, the pre-lit aroma drew my attention. It had that wonderfully pungent "barnyard" smell that precedes many great cigars. But, upon lighting, what I found was a cigar way beyond my expectations and recollection. I had remembered enjoying the Coronado but over the last few years the cigar had developed a depth and softness that took it to a higher level of flavor. It had become as smooth as any cigar I've smoked in recent memory, and its mild aroma was absolutely heavenly. With overtones of nuts, caramel, and a touch of citrus, the Coronado was a complex feast in and of itself. And its appearance had improved as well, with the wrapper having become suppler with a nice satiny sheen. I wanted to smoke this cigar forever!
I can't remember ever having enjoyed a Dominican cigar more than this. The 2007 Coronado turned out to be the perfect Autumnal cigar and an unexpected treat to accompany the sights, sounds, and smells of the Thanksgiving holiday. With a little restraint, I might have one or two left over for Thanksgiving 2011.
---
[i] Technical note: The 2007 vintage of the Coronado is not the cigar that won the #2 CA rating. It's got the same name but the wrapper is different. Litto Gomez, the creator of La Flor Domincana, changed the wrapper in 2007 and the newer band reflects that change. All the Coronado cigars since then have this Habano wrapper grown in Jalapa, Nicaragua.