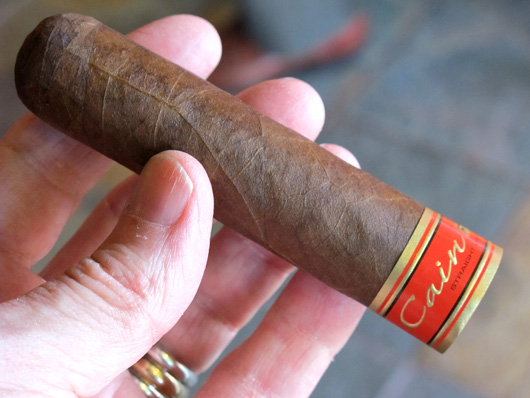 While at the Cain F NUB Road Show, I was fortunate enough to get my hands (and lips) on a Cain F NUB.  And it was not quite what I had expected.  Sure, it was fat and stubby, but the tobacco was so smooth that, to me, it didn't even taste strong.  Unlike the original F, this cigar was easy to settle into.  The first time I smoked the original F I was hit with a profound sense of strength.  But the F NUB seduces you with a velvety quality that only multiple fermentations can provide.  Even with overtones of fruit and rich tobacco, this cigar was rather simple in its flavor profile.  Having been familiar with the original F, I was looking for an "in your face", spicy smoking experience, but was surprised by how luscious the flavor was.  It tasted almost like a rich desert.  And this little "chubster" takes its time.  Between the dense tobacco pack and the 60 ring gauge, this cigar is at least an hour smoke.  But I could imagine that this 82% ligero cigar could blow out some unwitting first time smokers, without even knowing what hit them.  Unlike the original F, the F NUB  has power that is subtle, like a fruity cocktail made of 151 rum, this guy can sneak up on you.
The bottom line is the NUB version of the F is fruitier and richer than the original, and if you're looking for a spicy complexity this stick might disappoint.  But fans of cigars like the Rocky Patel Decade or the Oliva Master Blend III might love this stick.  It's got that same sort of vibe but on a grand scale.  I really enjoyed it.
Caveat…
This review is based on a cigar smoked just once, and is only a first impression.  It was the third cigar consumed at a cigar lounge event and the conclusions of this review may have been different under other circumstances.