Interview with Alex Svenson, Chief Merchant of Cigar.com
April 2, 2010
RJoe: I understand using Penn. wrapper came from your desire to create a new blend, but why now?
Alex: PA Broadleaf makes great binder.  It is durable and thick but has great combustion.  Those are the key things to look for when selecting a wrapper.  It wound up as wrapper quite by accident…I was with Abdel and he was the one I really credit with discovering this.  He bought a bunch to use for binder and he fermented it and just kept fermenting it and eventually had some beautiful wrapper with even color.  He put it on a cigar and handed it to me and we both fell in love with it.  I told him he should make some lines with it (half joking) and the next thing I knew we were blending.  I find it to be much more flavorful than the CT Broadleaf.
RJoe: What was the process that led to the final blends?
Alex: Speaking for 5 Vegas Triple A and Diesel, we knew the sweet spiciness of the PA wrapper would balance best with a strong blend of ligero fillers.  We were actually blending the Diesel cigar and it came down to two amazing blends.  We could not decide so we used both and that is where 5 Vegas Triple A came into play.  One of them reminded me very much of a fuller bodied version of the 5 Vegas Series A.
RJoe: I see that Abdel was the pioneer here, but what other companies are putting out such a product?
Alex: Since the success of several new lines using this wrapper, Lancaster has seen a surge on this leaf.  I know of a half dozen factories that bought it but it may be a year or so before you see them put it on cigars that hit the market.  It takes a long time to work the tobacco and ferment it before it is ready.  That is why a lot of people avoid it…the process is very expensive.  One person that has a small inventory that is finished besides Abdel is Nestor Plasencia who acquired some last year.  I smoked it a few weeks ago and it is great.  Different from Abdel as each blender has his own fermenting process that provides a unique flavor, but it is damn good.  We will be using this wrapper on a new blend that will come out later this summer called 5 Vegas Gold Maduro.  It is the perfect wrapper and blend to carry the torch in the 5 Vegas Gold line.
RJoe: Do you think that PA Broadleaf will ever rival its Conn. brother?  Why?
Alex: For me, both wrappers are great but attract very different cigar enthusiasts.  The CT Broadleaf is great for the guy who likes a milder flavor and body.  The wrapper from CT offers a nice sweetness.  The PA on the other hand has that same sweetness but the flavor is richer and blends much better with fuller bodied cigars.   A lot of guys that like some of the Cuban seed maduros from Nicaragua and Honduras will like PA.
RJoe: What are the origins of the PA Broadleaf seed?
Alex: The seed grown in PA is the same as the seed grown in Connecticut.  That seed traces its origins back to Cuba but has evolved quite a bit over the last few hundred years, so it is now a unique seed all its own.  They harvest the seeds…right off the actual plant.  Independent farmers grow it in Lancaster County and they all sell it to one company, Lancaster Leaf, one of the largest tobacco brokers in the world.  It is all shipped to the Dominican where it is fermented and then cigar makers buy it from there.
RJoe: The wrappers on these four cigars look like they were sun-grown.  Are there any plans for a shade grown variation of this tobacco?
Alex: Since Abdel is not involved in the actual growing of this leaf, he has no ability to try shade.  That would be up to Lancaster.  I am sure they have experimented with it though.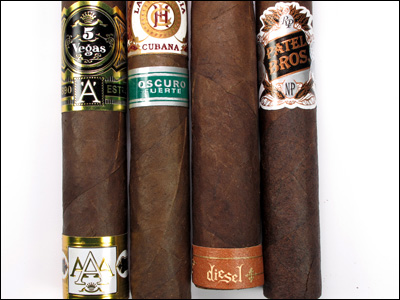 RJoe: As you can see from the photo of the four cigars, each of these examples of Lancaster wrapper shows differing visual characteristics.  How is this possible?  The Herencia looks like thick CT shade, the Patel like rough sandpaper, the Vegas like parchment, and the Diesel like rusted steel.  Are all these tobaccos processed differently?
Alex: Maduro literally translates to "ripe" in Spanish.  Tobacco is grown and reaches maturity in about 90 days.  After it is grown, it is picked and taken into a curing barn for 45 days where the leaves turn from green to brown as the water and chlorophyll leave the leaf.  From there it is taken into fermentation.  Fermentation is a process that breaks down the tannic components of the leaf.  There are many rough and edgy qualities to the tobacco while it is still fresh and the fermentation process breaks these down.  Fermentation is a lot like composting actually.  Fermentation takes several years in many cases and as the tobacco ferments, it darkens.  Heavier tobaccos like PA Broadleaf, can take much longer to ferment and because it takes longer, the leaf becomes darker.  This is a maduro in its truest definition.  The color comes to the leaf naturally through fermentation.
Some people will dye their wrapper black through actually coloring it or a process called boiling or cooking the leaf.  Some people do it once the leaf is naturally fermented to a maduro and use this to even the color and make it look more aesthetic (a practice generally accepted) and others who are dishonest will take tobacco that is not ready yet and is not fully fermented and hence not black and use the coloring process to cover it up (generally unaccepted).
Abdel does neither.  PA Broadleaf is very expensive given fermentation time and he is in love with the process.  He likes showing the natural look of the leaf from the natural process.  The downside to this is that there is a lot of color variation.  Not just brand to brand, but sometimes box to box but the flavor is always the same.
In terms of texture, a tobacco plant has 5 primings, Valado, Seco, Viso, Ligero, Corona (that is the order from bottom to top).  The lower primings, which get less sun, are typically thinner and finer while the top primings are much heavier, thicker and tougher… like leather almost.  The top primings not only get more sun, but are also picked 2 weeks later than the bottom so they also benefit from more ground nutrients from the root in the last two weeks.  As you work your way up the plant, the lower primings have less body or strength and the top primings have the most.  So when a blender picks a specific tobacco seed and country, that is only part of it.  He also has to pick which part of the plant the leaf comes from.  This is crucial to his blend recipe.  I am not 100% on many of Abdel's blends as it is a secret, but my hunch is the thinner looking wrappers with less texture are from lower primings and the thicker, heartier ones are from higher primings.
RJoe: Why did the PA Broadleaf "fall out of favor" and how did it find its way back into fashion?
Alex: The tobacco was never really used for wrapper until recently.  (Before then) it was used for binder because of its durability.  It had a slump in 80's and I am not 100% sure why.  The 1980's were an interesting time for premium cigars.  So were the 70's for that matter.  It resurged in the 1990's with the cigar boom.  It was mainly used for binder but some people used it for wrapper.  However, most people that were using it for wrapper were trying to pawn it off as CT Broadleaf and were not fully fermenting it.  It got a bit of a bad rap.  It continued to be used as binder until about 2 years ago.
RJoe: What cigars, other than the ones mentioned in this interview, contain PA Broadleaf as binder?
Alex: I am not sure about the binders.  Blenders are usually pretty secretive.  I know it is the binder on a new nationally distributed brand that AJ Fernandez is making called San Lotano.  It is a full-bodied blend made with a Cuban Seed Brazilian Grown wrapper and the PA Binder.  AJ is very proud of it.  The brand was one his grandfather made back in Cuba and he is trying to resurrect it to continue the tradition.  We are launching a new brand called 5 Vegas Gold Maduro which will  be the maduro version of our 5 Vegas Gold line.  It was blended by the legendary cigar man Anibal Salinas (he rolled the first cigar in Nicaragua in the 60's).  Plasencia is making it and using PA Broadleaf for the binder.  This is the second factory I know of to have the wrapper.
Reference:  Article about Lancaster wrapper from the Cigar.com newsletter