Cigar ratings…whether we agree with them or not, often guide us in our pursuits of the perfect puro; and when Cigar Insider gives an entire cigar line high marks, my curiosity gets really piqued. Such was the case with the Aging Room Small Batch M356 cigar.
Being a fan of the "old school" robusto size, I chose to sample the Rondo vitola (5×50).[i] I figured the cigar would be strong as ALL Cigar Aficionado ratings are skewed that way, yet I was not prepared for what the M356 had in store. But first the usual review stuff:
The M356 Rondo is a perfectly constructed cigar. No soft spots, nice weight in the hand, and a perfect draw. The cap is tightly wound and keeps its shape long after the guillotine cut. Its burn is as good as it gets, with an ash that just doesn't want to drop. I've never smoked a cigar with a better burn.
Color-wise, the M356 is unique. It's a Colorado-Claro with an almost rust color wrapper, and its mottled appearance makes for an unusual presentation. I've never before seen a cigar with this coloration. Now down to what's most important, its flavor:
At the very first puff, the M356 really grabs your attention. It produces an almost effervescent sensation on the tongue, unlike anything I've ever tasted. Some may describe this as spicy, but it's not the typical tobacco spice. It's more of a feeling not unlike a carbonated beverage. No, the cigar doesn't taste like soda, but it has an almost bubbly intensity. But what impresses me the most is a taste I can only describe as "bright". In a world where dark cigars have gained prominence, the M356 comes across as a beacon of light. There's no earth or espresso tones in this stick, but rather aromatic flavors of wood and spearmint. Smoking it is a stimulating experience, one that begs you to keep smoking. So much so that the M356 has been the only cigar I've smoked all week.
The history behind the M356 is intriguing. Originally designed as a member of the Swag line, the outstanding tobaccos used in this stick were of insufficient supply for a general release cigar. As a result the line was classified as Small Batch and only a limited number of boxes were produced. Rafael Nodal, the creator of Oliveros Cigars explains the process here.
The Aging Room Small Batch M356 is the first truly outstanding cigar I've smoked in a long time. I was starting to get bored by all the maduros that have recently flooded the market. To find something with such a unique character has re-kindled my love of cigars. But with uniqueness comes polarization. If dark, earthy cigars are your thing, the M356 may not be appealing. For me, uniqueness is what I look for in a cigar, and this stick has it in spades. So love it or hate it, one thing is for sure, the M356 has a point of view, and I love what it has to say.
Happy smokes,
Joe
Brand: Aging Room Small Batch M356
Vitola: Rondo (robusto 5×50)
Wrapper: Habano (Dominican grown)
Flavors: Wood, Spearmint, "bright" tobacco.
Manufacturer: Oliveros Cigars – Dominican Republic
X Factor: 9.4
Finish: Creamy
Strength: Strong
Price: $7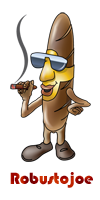 ---
[i] I say "old school" because the robusto ring size has gotten fatter over the last few years. Cigars of 52 ring size and larger are now called robusto if they are 5 inches in length.