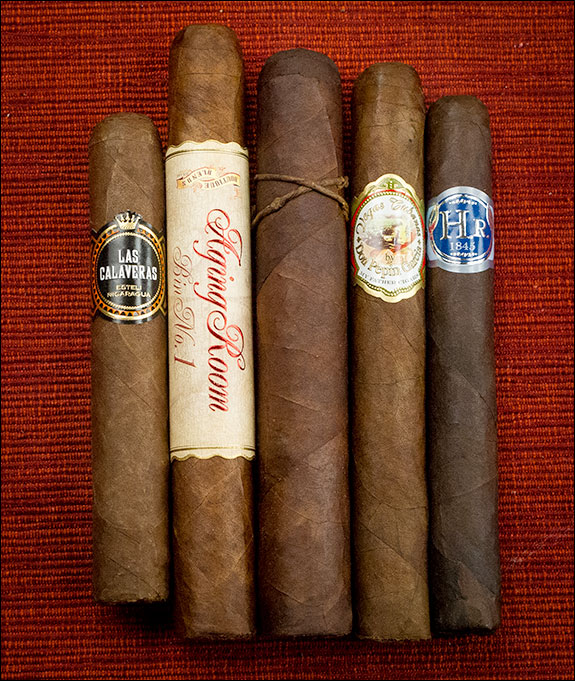 The Rules.
Each month, a group of experienced cigar smokers participate in tastings of five new cigars. All smoke one of the selected cigars each day, and it is the first cigar of the day. All cigars are paired only with water, and are purchased at the same time from the same vendor. The cigars are stored for at least two weeks in a humidor prior to smoking. Everyone follows strict scoring guidelines. Taste is weighted heavily (50%), followed by construction (10%), draw (10%), burn (10%), and taste evolution (20%). Additional points are awarded for uniqueness or that intangible "wow factor".
Why a committee?
Cigar reviews are very subjective, and influenced by the smoker's environment (see When Good Cigars Taste Bad, part 2). In a committee review, the results are averaged over all participants, providing a better yardstick to measure a cigar's quality. In addition to a numerical ranking, each review will include tasting notes by each of the committee members. This should help in determining if these new cigars are worth purchasing.


Crowned Heads Las Calaveras EL 2017 LC506 5×50

This robusto scored well with every reviewer. Tons of spicy smoke with notes of black pepper, gingerbread, leather, and sweet nuts. The finish has a floral quality.
Wrapper: Ecuadorian Habano; Binder: Nic.; Filler: Nic.; Blender: Jon Huber; MSRP: $10.76



Aging Room Bin #1 B Minor Toro 6 1/8x52
Reviews ranged from 79 to 95. Construction issues hurt some scores. Flavors included strong tobacco, clove, wood, and pencil lead. Two smokers found it bland.
Wrapper: Ecuadorian Habano; Binder: DR; Filler: DR; Blender: Rafael Nodal; MSRP: $12.60



CAO Fuma Em Corda 6x58
Everyone enjoyed this cigar, and found it to have a unique flavor profile. Notes of unsweetened cocoa, roasted meat, malt, and oak. Burn was uneven, but tended to self-correct.
Wrapper: Honduran Colorado Oscuro; Binder: Cameroon; Filler:Brazil, Nic., Honduras; Blender: CAO; MSRP: $10.50



Vegas Cubanas By My Father Generosos 6×50

This cigar scored all over the place. Some found it a powerful flavor bomb while others were disappointed. This cigar is peppery, and smooth, with notes of cedar, and toasted almonds.
Wrapper: Nic. Corojo; Binder: Nic; Filler: Nic. ; Blender: Don Pepin Garcia; MSRP: $7.48



HR Blue By Hirochi Robaina Corona Gorda 5.5×46
Everyone found this cigar to be a nicotine powerhouse. Bitter flavors of dark roasted coffee with an over-abundance of black pepper.
Wrapper: Ecuadorian Habano; Binder: Nic.; Filler: Nic; Blender: Hirochi Robaina; MSRP: $7.00

Rating Legend:
0-74 = Unsmokeable
75-79 = Disappointing
80-84 = Average
85-89 = Very Good
90-94 = Excellent
95-100 = Outstanding