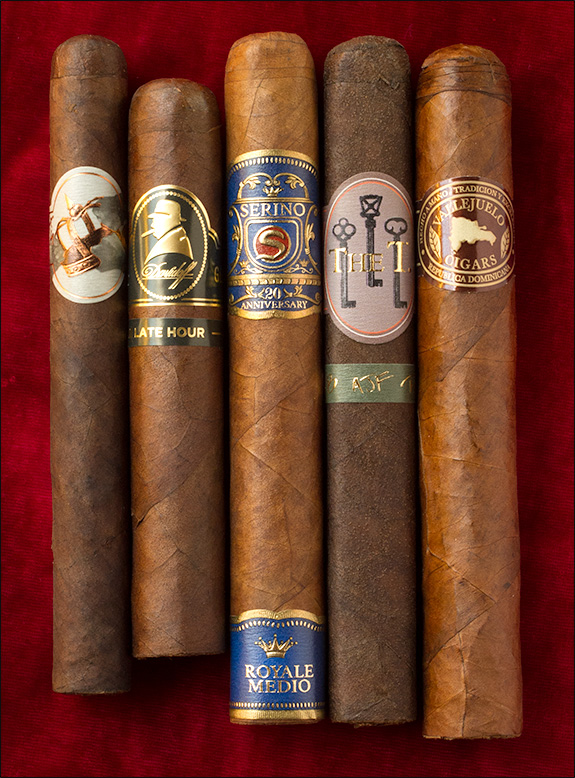 The Rules.
Each month, a group of experienced cigar smokers participate in tastings of five new cigars. All smoke one of the selected cigars each day, and it is the first cigar of the day. All cigars are paired only with water, and are purchased at the same time from the same vendor. The cigars are stored for at least two weeks in a humidor prior to smoking. Everyone follows strict scoring guidelines. Taste is weighted heavily (50%), followed by construction (10%), draw (10%), burn (10%), and taste evolution (20%). Additional points are awarded for uniqueness or that intangible "wow factor".
Why a committee?
Cigar reviews are very subjective, and influenced by the smoker's environment (see When Good Cigars Taste Bad, part 2). In a committee review, the results are averaged over all participants, providing a better yardstick to measure a cigar's quality. In addition to a numerical ranking, each review will include tasting notes by each of the committee members. This should help in determining if these new cigars are worth purchasing.


Caldwell All-Out-Kings Give Me Your Lunch Money 5.75×46
Although all the test cigars were purchased from the same vendor at the same time, one reviewer gave it the worst allowable score, while two rated it 90+. Hard to explain. But most agreed the construction was only fair. Flavors of bitter chocolate and mint were detected.
Wrapper: Habano; Binder: Sumatra; Filler: USA/DR/Nic.; Blender: Robert Caldwell/Drew Estate; Origin: Nic.; MSRP: $12.80


Davidoff Winston Churchill The Late Hour 5×52

The overall scores for this cigar were favorable, but some thought it bland, while others complex and interesting. It's a mild cigar with flavors of walnuts, malt, coffee and cream, with floral notes.
Wrapper: Ecuadorian Habano; Binder: Mexico; Filler: DR/Nic.; Blender: Davidoff; Origin: DR; MSRP: $17.50

Serino Royale Medio Toro 6×52
Most everyone found something to like about this large toro. Good flavor evolution made it a fun smoking experience. Notes of cinnamon and clove, umami, oak, and graham cracker.
Wrapper: Ecuadorian Habano Claro; Binder: Nic.; Filler: Nic.; Blender: Serino/Gonzíçlez Alemíçn; Origin: Nic.; MSRP: $10.00


The T AJ Booth Caldwell Toro 6×52

Toothy and box pressed, this earthy cigar was enjoyed by all but one reviewer. Flavors of dark chocolate, espresso, and black pepper were detected.
Wrapper: Nic. Habano; Binder: Nic; Filler: Nic. ; Blender: AJ Fernandez/Matt Booth/Robert Caldwell; Origin: DR.; MSRP: $11.50




Vallejuelo Gran Toro 6×54
With an 11 point spread, this cigar elicited polar opposite reactions. Its appearance was described as both "gorgeous" and "gnarly". Flavors included pretzel, caramel, and bitter charcoal. Ash was flakey and fell off easily.
Wrapper: Ecuadorian Habano; Binder: DR.; Filler: Nic/DR; Blender: Maurice Koks; Origin: DR.; MSRP: $6.00

Rating Legend:
0-74 = Unsmokeable
75-79 = Disappointing
80-84 = Average
85-89 = Very Good
90-94 = Excellent
95-100 = Outstanding