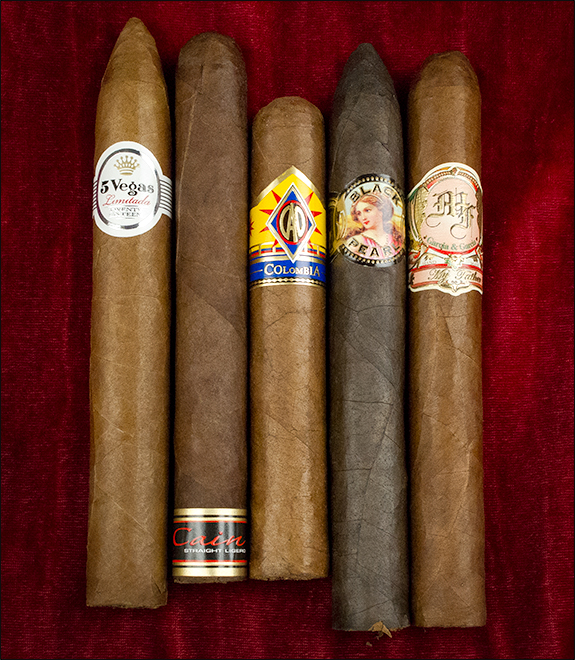 The Rules.
Each month, a group of experienced cigar smokers participate in tastings of five new cigars. All smoke one of the selected cigars each day, and it is the first cigar of the day. All cigars are paired only with water, and are purchased at the same time from the same vendor. The cigars are stored for at least two weeks in a humidor prior to smoking. Everyone follows strict scoring guidelines. Taste is weighted heavily (50%), followed by construction (10%), draw (10%), burn (10%), and taste evolution (20%). Additional points are awarded for uniqueness or that intangible "wow factor".
Why a committee?
Cigar reviews are very subjective, and influenced by the smoker's environment (see When Good Cigars Taste Bad, part 2). In a committee review, the results are averaged over all participants, providing a better yardstick to measure a cigar's quality. In addition to a numerical ranking, each review will include tasting notes by each of the committee members. This should help in determining if these new cigars are worth purchasing.


5 Vegas Limitada 2016 Belicoso 6.2x52

This cigar scored well for taste, but construction issues brought down the overall numbers. Mineral flavor, with hints of lavender, Hazelnuts, and leather.
Wrapper: Nic. Shade Grown; Binder: Unknown; Filler: Unknown; Blender: Unknown MSRP: $10.00



Cain F Habano Robusto 5.7x50
All reviewers were disappointed by this cigar. Bitter flavors seemed to dominate with a dry finish.
Wrapper: Nic Habano; Binder: Nic; Filler: Nic; Blender: Oliva MSRP: $8.62


CAO Colombia Tinto Robusto 5x50
With notes of Cinnamon, pine wood, baking spice, and almonds, this cigar had something for everyone. Creamy and mild.
Wrapper: Jamastran Rosado; Binder: Cameroon; Filler:Brazilian Mata Fina and Colombian Ica Mazinga; Blender: CAO MSRP: $6.25


La Perla Habana Black Pearl Belicoso 6.2×52

As evidenced by its poor overall score from the Committee, this black belicoso had little to offer. One smoker couldn't get past the first half inch because of poor construction. Lack of flavor was another issue.
Wrapper: Brazilian Arapiraca maduro; Binder: Nic; Filler: Nic., Mexico, DR ; Blender: Unknown MSRP: $6.00


My Father #3 Cremas 6×49
Scores were all over the place for this cigar. Flavors include black pepper, leather, and coffee, Everyone agreed there was little flavor evolution.
Wrapper: Ecuadorian Habano Criollo; Binder: Nic.; Filler: Nic; Blender: Jamie Garcia; MSRP: $11.74

Rating Legend:
0-74 = Unsmokeable
75-79 = Disappointing
80-84 = Average
85-89 = Very Good
90-94 = Excellent
95-100 = Outstanding