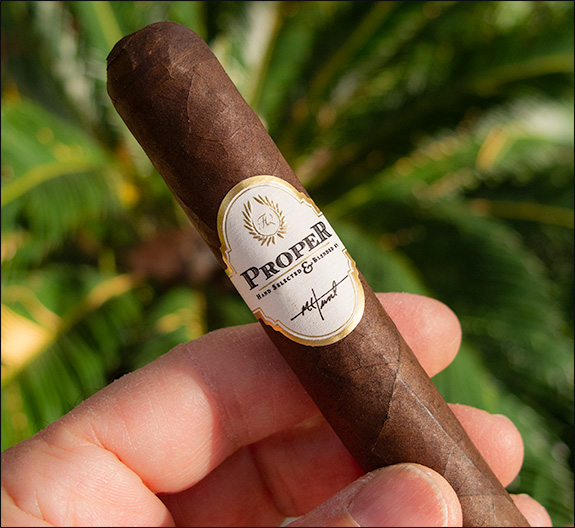 The Rules.
Each month, a group of experienced cigar smokers participate in tastings of five new cigars. All smoke one of the selected cigars each day, and it is the first cigar of the day. All cigars are paired only with water, and are purchased at the same time from the same vendor. The cigars are stored for at least two weeks in a humidor prior to smoking. Everyone follows strict scoring guidelines. Taste is weighted heavily (50%), followed by construction (10%), draw (10%), burn (10%), and taste evolution (20%). Additional points are awarded for uniqueness or that intangible "wow factor".
Why a committee?
Cigar reviews are very subjective, and influenced by the smoker's environment (see When Good Cigars Taste Bad, part 2), personal taste, pairings, and mood. In a committee review, the results are averaged over all participants, providing a better yardstick to measure a cigar's quality. In addition to a numerical ranking, each review will include tasting notes by each of the committee members. This should help the reader determine if these new cigars are worth purchasing.
Note: As an experiment, moving forward, we will be reviewing one cigar at a time. This will allow us to publish reviews as the cigars are smoked, getting them out sooner rather than waiting for all five reviews to be posted at once.


FQ Proper Corona Gorda 5 5/8 x 46
An earthy smoke, with notes of red pepper, leather, peanuts, and herbs. Some bitterness hurt the overall score. Construction was good with a nice flavor evolution.
Strength: 6 out of 10
Wrapper: Ecuadorian Habano; Binder: Hon Broadleaf.; Filler: Nic.; Blender: Matt Hunt; Origin: Nic.; MSRP: $9.50
Tasting notes…
Paul 84 – Dark brown mottled wrapper with a nice oily sheen, medium veins, no soft spots, closed foot, lumpy cap, and faint tobacco aroma on the wrapper. First 1/3: Lots of smoke, short lived pepper, leather, malt, sharp burn line, light gray ash which falls off at 1", mild + strength, medium body and medium finish. Second 1/3: More of the same, leather predominant, no flavor changes, scalloped burn, flaky ash. Last1/3: Slight bitterness, no changes, one dimensional, nothing bad, but little that is more than average.
Rob 95 – This cigar has a very oily oscuro wrapper. Quite dark brown. It is wrapped around a firmly packed beautiful cigar. No veins with tight completely invisible seams. It is of average weight and has a very firm pack. Very nice applied triple cap and closed foot. Almost a sweet woody pre light aroma. With a punch, it has a perfect draw, which is unusual for a closed foot cigar. Lets light her up: huge billows of smoke from both the draw and burning foot. A charred wood mouth feel. The char flavor quickly fades, and a nice woody and sweet peanut flavor has taken over. No harshness at all, it is very smooth. At the halfway point, the sweet peanut flavor has greatly diminished, but I am left with a long finish. There are still plumes of smoke. Bit of a wavy burn, but nothing needing a correction. I am now getting a slight white pepper coating on my tongue.
Jim 92 – Very interesting looking cigar with its dark maduro color, closed foot and distinct view of the leaf veins on this cigar. In fact, it almost seems like there are some leaf stems in the wrapper as there are some large tactile lines running the length of the leaf. My initial draws from this cigar are very creamy and sweet with ample amounts of thick smoke. As it heats up I'm getting some strong leather followed by some in-your-face red pepper spice. As I progress, the spice backs off a bit and is more on the finish. It is an interesting smoke as you get an initial hit of smoothness followed immediately by a sharp punch of red pepper hot spice. That same spice lingers on the palate as an aftertaste. Definitely a spicy cigar that is medium in strength. The burn is straight, the ash is loose and the draw is perfect. This is getting very interesting, I'm slightly past the 1/3 mark and now experiencing a major transition. Spice and leather totally backed off. Flavors are way more savory now like smoked meat, unsweetened cocoa and a cinnamon finish. In the last third I'm now picking up flavors of dried fruit and cherry mixed in with the savory flavors. This is one of the most interesting cigars I have smoked in a while. Very dynamic experience like smoking two difference cigars in one.
Artie 90 – At first glance, this dark brown, corona is impressive. It's well-made with a smooth wrapper, and I give it extra points for having a closed foot. I like this because it protects the delicate wrapper from cracking. After cutting the cap, I burned off the excess wrapper leaf from the foot with a torch lighter. Once this was done, the cigar lit easily and the draw was nice and smooth. Right away the cigar delivers very strong flavors of roasted walnut and tons of earthy leather. This is a flavor profile I wouldn't choose for everyday smoking, but would go well after a steak dinner. But this is the first cigar of the day, and the intensity is a bit overwhelming. As the cigar heats up, notes of bitter chocolate bath the palate. This is a strong cigar and I need to smoke it in stages. Construction wise, this stick is amazing. It burns uniformly, with a perfect, firm ash that grips the cigar. No touchups are needed. Mid way, the cigar gets a strong herbal quality…oregano comes to mind. At the nub I am impressed with the intensity of flavor, its complexity, and the top notch construction, but this cigar is simply too earthy for my tastes. My score is taking this into consideration, and I'm not downgrading it based on my own tastes. I think some smokers may love this stick while others find it too bitter.
Will 85 – Very dark rustic looking 5 x 52 robusto, wrapper leaf has very prominent veins and a sloppily applied double cap. The cold nose is a briny red pepper and elicits two sneezes. When I clip the cap the wrapper leaf tears and requires a bit of goma to repair. The cold draw on this stick gives me pepper and barnyard. The cigar combusts easily and immediately produces lots of smoke. The initial draw produces flavors of over roasted peanuts with a citrus tang that coats my tongue, a tad bitter but not unpleasant. Within the first few minutes the tart finish dissipates and the roasted nuts give way to a dark roasted coffee profile and a salty leather finish. The burn on this stick is razor sharp and the ash holds on for almost 2 inch increments. A good smoke although something is missing but I can't put my finger on it. At the halfway point the flavor has not changed and the salty leather finish is becoming bitter, the flavors are muddled and not as defined so I Artied it at the 40 minute mark.
Rating Legend:
100-95 = Outstanding
94-90 = Excellent
89-85 = Very Good
84-80 = Average
79-75 = Disappointing
74 (lowest possible score) = Un-smokeable