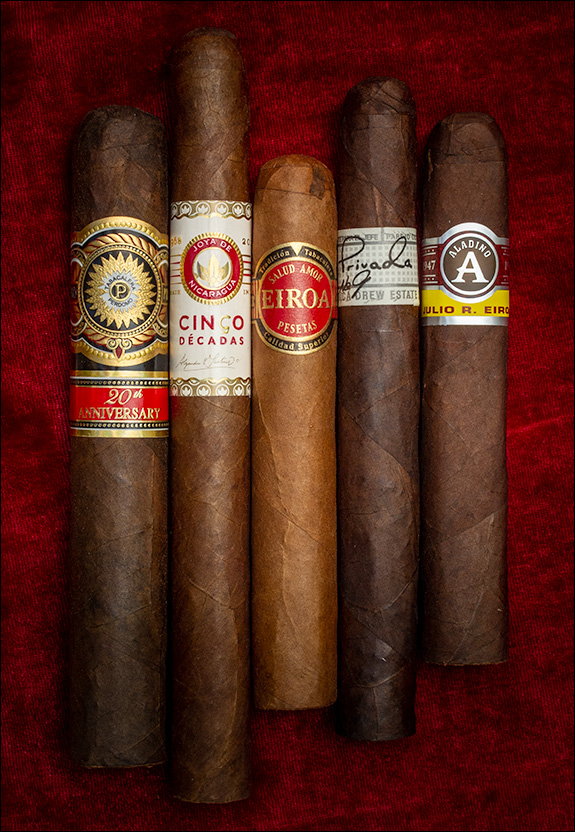 The Rules.
Each month, a group of experienced cigar smokers participate in tastings of five new cigars. All smoke one of the selected cigars each day, and it is the first cigar of the day. All cigars are paired only with water, and are purchased at the same time from the same vendor. The cigars are stored for at least two weeks in a humidor prior to smoking. Everyone follows strict scoring guidelines. Taste is weighted heavily (50%), followed by construction (10%), draw (10%), burn (10%), and taste evolution (20%). Additional points are awarded for uniqueness or that intangible "wow factor".
Why a committee?
Cigar reviews are very subjective, and influenced by the smoker's environment (see When Good Cigars Taste Bad, part 2), personal taste, pairings, and mood. In a committee review, the results are averaged over all participants, providing a better yardstick to measure a cigar's quality. In addition to a numerical ranking, each review will include tasting notes by each of the committee members. This should help the reader determine if these new cigars are worth purchasing.


Perdomo 20th Anniversary Maduro Epicure (6 x 56)
This rich, creamy smoke delivers a complex flavor profile. Notes of chocolate, cinnamon, umami, and dark fruit. This slow-burner required few touchups and construction was excellent.
Strength: 5.8 out of 10
Wrapper: Nic. Maduro; Binder: Nic.; Filler: Nic.; Blender: Perdomo; Origin: Nic.; MSRP: $9.25



Joya De Nicaragua Cinco Decadas El General (7 x 50)
This cigar elicited a wide range of reactions from the committee. Some found it mild while others found it intense. Flavors of Indian spices, black pepper, dark chocolate, and leather were among its myriad flavors. Draw was decidedly firm.
Strength: 6 out of 10
Wrapper: Nic. Habano; Binder: Nic.; Filler: Nic.; Blender: Joya De Nicaragua; Origin: Nic.; MSRP: $19.40



Eiroa by Christian Eiroa (5 x 50)
Well-constructed, albeit with a sloppy cap, this cigar puts out tons of smoke. Burn was top notch, and its complex flavor profile had notes of creamy caramel, cinnamon spice, and salted nuts.
Strength: 4.8 out of 10
Wrapper: Hon. Corojo; Binder: Hon.; Filler: Hon.; Blender: Christian Eiroa; Origin: Hon.; MSRP: $11.72



Liga Privada No. 9 Corona Vida (6 x 46)
Dark chocolate and fresh roasted coffee dominates this earthy cigar. An underlying sweetness of roasted marshmallow was also present. Some bitter "char" was detected at the nub. Burn was excellent with ample smoke output.
Strength: 6 out of 10
Wrapper: Conn. Broadleaf; Binder: Nic.; Filler: Hon./Nic.; Blender: Drew Estate; Origin: Nic.; MSRP: $12.50



Aladino Maduro Robusto BP (5 x 50)
This is a complex Maduro, though some found the flavors muddled. Chocolate, coffee, herbs, figs, and dates were some of the varied flavors brought forward by its rich tobaccos. Construction was good, but the cigar was soft and spongy.
Strength: 5.5 out of 10
Wrapper: Mexican San Andres; Binder: Hon.; Filler: Hon.; Blender: Julio R. Eiroa; Origin: Hon.; MSRP: $10.50

---
RatingLegend:
100-95 = Outstanding
94-90 = Excellent
89-85 = Very Good
84-80 = Average
79-75 = Disappointing
74 (lowest possible score) = Un-smokeable