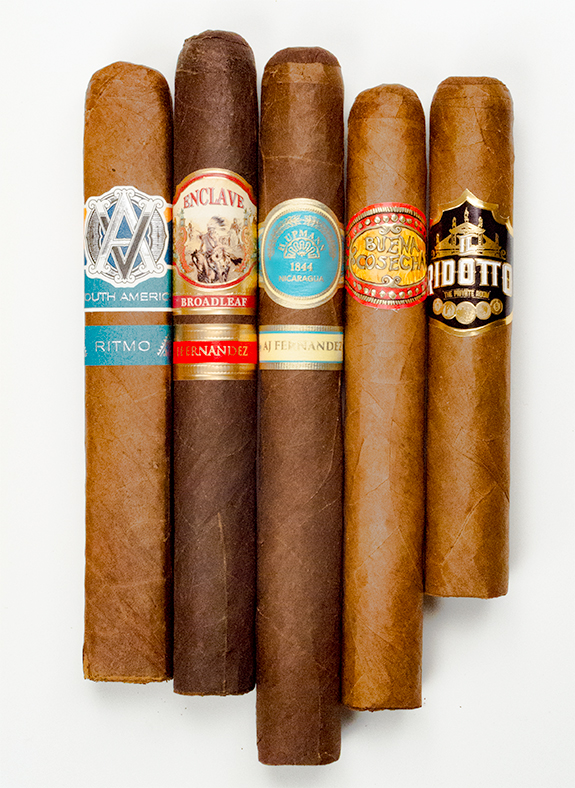 The Rules.
Each month, a group of experienced cigar smokers participate in tastings of five new cigars. All smoke one of the selected cigars each day, and it is the first cigar of the day. All cigars are paired only with water, and are purchased at the same time from the same vendor. The cigars are stored for at least two weeks in a humidor prior to smoking. Everyone follows strict scoring guidelines. Taste is weighted heavily (50%), followed by construction (10%), draw (10%), burn (10%), and taste evolution (20%). Additional points are awarded for uniqueness or that intangible "wow factor".
Why a committee?
Cigar reviews are very subjective, and influenced by the smoker's environment (see When Good Cigars Taste Bad, part 2). In a committee review, the results are averaged over all participants, providing a better yardstick to measure a cigar's quality. In addition to a numerical ranking, each review will include tasting notes by each of the committee members. This should help in determining if these new cigars are worth purchasing.

Avo Syncro South America Ritmo Toro 6×54

Although very soft and squishy in the hand, this box pressed toro was ultra creamy; with notes of malt, mint, hazelnut, and cedar. Ash was flakey, and the wrapper tended to split during burn.
Wrapper: Ecuadorian Habano; Binder: Mexico; Filler: Nic., Brazil, Peru, Hon., DR.; Blender: Henke Kelner; Origin: DR; MSRP: $11.90



Enclave Broadleaf by AJ Fernandez Toro 6.5x54
This densely packed toro disappointed some reviewers, while others were impressed. It's an earthy cigar with notes of black pepper, dried cherries, and leather. A complex smoke.
Wrapper: Conn. Broadleaf; Binder: Nic.; Filler: Nic.; Blender: AJ Fernandez; Origin: Nic.; MSRP: $9.00



H. Upmann by AJ Fernandez Churchill 7x54
This well made cigar had nice complexity, but didn't "wow" anyone. Flavors included milk chocolate, nuts, soft pretzel, and dark fruit.
Wrapper: Ecuadorian Sumatra; Binder: Nic.; Filler: Nic.; Blender: AJ Fernandez; Origin: Nic.; MSRP: $7.75



Casa Fernandez Buena Cosecha Corojo Toro 6×50

All but one reviewer was disappointed by this cigar, and he gave it a 91…go figure. Ash fell off easily, and two smokers put it down halfway through. Flavors of light coffee, leather, and citrus were detected.
Wrapper: Nic. Corojo; Binder: Nic; Filler: Nic. ; Blender: Arsenio Ramos; Origin: Nic.; MSRP: $8.00




Il Ridotto by MayaRuiz Biribi Robusto 5×52
This cigar rated all over the place with our reviewers. Some nubbed it; others put it down early. Flavors included roasted nuts, cappuccino, leather, and cinnamon.
Wrapper: Brazilian Habano; Binder: Nic.; Filler: Nic; Blender: Erik Espinoza; Origin: Nic.; MSRP: $8.00

Rating Legend:
0-74 = Unsmokeable
75-79 = Disappointing
80-84 = Average
85-89 = Very Good
90-94 = Excellent
95-100 = Outstanding