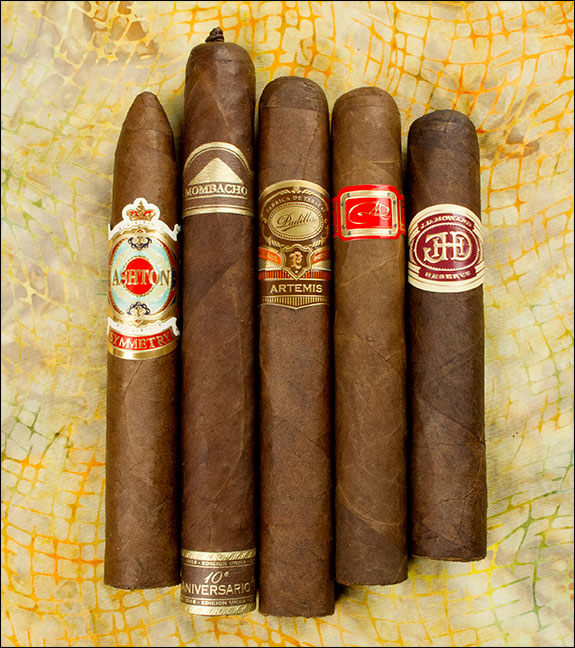 The Rules.
Each month, a group of experienced cigar smokers participate in tastings of five new cigars. All smoke one of the selected cigars each day, and it is the first cigar of the day. All cigars are paired only with water, and are purchased at the same time from the same vendor. The cigars are stored for at least two weeks in a humidor prior to smoking. Everyone follows strict scoring guidelines. Taste is weighted heavily (50%), followed by construction (10%), draw (10%), burn (10%), and taste evolution (20%). Additional points are awarded for uniqueness or that intangible "wow factor".
Why a committee?
Cigar reviews are very subjective, and influenced by the smoker's environment (see When Good Cigars Taste Bad, part 2). In a committee review, the results are averaged over all participants, providing a better yardstick to measure a cigar's quality. In addition to a numerical ranking, each review will include tasting notes by each of the committee members. This should help in determining if these new cigars are worth purchasing.
I hope you enjoy this feature, and keep checking back (or join the Newsletter) to see when new cigars are posted.

Ashton Symmetry Belicoso 5.25x52

Two reviewers awarded this cigar a 92 rating while three others considered it average at best. A creamy smoke with floral tones, and some light pepper qualities. Midway the flavors turn to dark roasted coffee for some, while others found diminished flavor.
Wrapper: Ecuadorian Habano; Binder: DR; Filler: Nic; Blender: Fuente MSRP: $12.25



Mombacho 10th Anniversary Magnifico 6.25x52
One reviewer love it, everyone else was disappointed by its construction and very mild flavor. Flavors include marzipan, nuts, game meat, and leather. This cigar tends to get very soft and mushy as it burns.
Wrapper: Nic Habano Sungrown; Binder: Nic; Filler: Nic; Blender: Claudio Sgroi; MSRP: $19.99



Padilla Artemis Toro 6×54
This cigar was the MVP of this round. Everyone enjoyed its rich flavor, perfect burn, and attractive looks. Flavors include cocoa, wood, leather, fennel and cream. This cigar stays interesting to the nub.
Wrapper: Nic Habano; Binder: Nic; Filler: Nic; Blender: Ernesto Padilla; MSRP: $9.25



Daniel Marshall Red Label Robusto 5.5×52

Everyone agreed that this cigar had tons of flavor, including raspberry and roasted nuts. A minty finish kicks in at the mid-point and the strength builds towards the nub.
Wrapper: Nicaraguan Habano; Binder: Nic; Filler: Nic; Manufacturer: Plasencia MSRP: $8.20



JD Howard Reserve HR54 5×54
One reviewer enjoyed this cigar while all others had issues. Poor burn and a grassy flavor hampered enjoyment. An abundance of tobacco stems in the blend may have been a factor.
Wrapper: Brazilian Arapiraca; Binder: Sumatra; Filler: Nic; Blender: Jon Huber; MSRP: $9.50.

Rating Legend:
0-74 = Unsmokeable
75-79 = Disappointing
80-84 = Average
85-89 = Very Good
90-94 = Excellent
95-100 = Outstanding