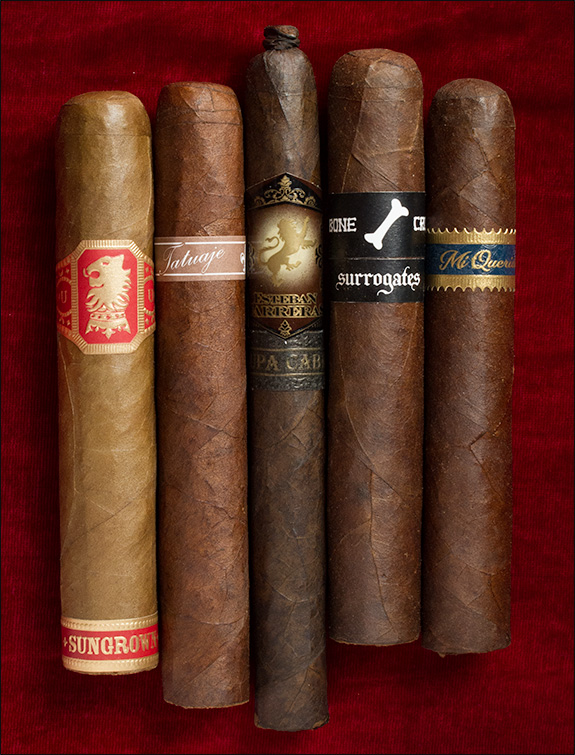 The Rules.
Each month, a group of experienced cigar smokers participate in tastings of five new cigars. All smoke one of the selected cigars each day, and it is the first cigar of the day. All cigars are paired only with water, and are purchased at the same time from the same vendor. The cigars are stored for at least two weeks in a humidor prior to smoking. Everyone follows strict scoring guidelines. Taste is weighted heavily (50%), followed by construction (10%), draw (10%), burn (10%), and taste evolution (20%). Additional points are awarded for uniqueness or that intangible "wow factor".
Why a committee?
Cigar reviews are very subjective, and influenced by the smoker's environment (see When Good Cigars Taste Bad, part 2). In a committee review, the results are averaged over all participants, providing a better yardstick to measure a cigar's quality. In addition to a numerical ranking, each review will include tasting notes by each of the committee members. This should help in determining if these new cigars are worth purchasing.


Liga Undercrown Sun Grown Robusto 5×54
Although a handsome cigar, this stick left most reviewers underwhelmed. The score was buoyed by two who liked its favor evolution. Flavors detected were straw, black tea, cedar, and pencil lead.
Wrapper: Ecuadorian Sumatra; Binder: Conn.; Filler: Nic.; Blender: Drew Estate; Origin: Nic.; MSRP: $8.48



Tatuaje Miami Regios 5.5×50
Only one reviewer gave this cigar a better than average rating. Everyone felt the first half was better than the second. Tartness, charred cocoa, and a dry finish was the prevailing opinion.
Wrapper: Nicaraguan Corojo 99; Binder: Nic.; Filler: Nic.; Blender: Pete Johnson; Origin: USA; MSRP: $11.00



Estaban Carreras Chupacabra Maduro Corona 6×44
One committee member loved this cigar, while two others left it unfinished. Construction was inconsistant. Flavors of marzipan, chocolate, and earth.
Wrapper: Nic. Maduro; Binder: Nic.; Filler: Nic.; Blender: Estaban Carreras; Origin: Nic.; MSRP: $7.40



L'Atelier Surrogates Bone Crusher Robusto 4.25×55

A spicy, earthy cigar, this stick appealed to some and not to others. An uneven burn was a problem for most reviewers. Flavors included Raisinettes, black pepper, and walnuts.
Wrapper: Conn. Broadleaf Maduro; Binder: Nic; Filler: Nic. ; Blender: Pete Johnson; Origin: Nic.; MSRP: $8.25




Mi Querida by Dunbarton Ancho Corta 5×52
This cigar rated all over the place with the Committee. But its strong flavors for most of the reviewers led to a favorable average score. Flavors of malt, cocoa, anise, and pumpernickel were detected.
Wrapper: Conn. Broadleaf; Binder: Nic.; Filler: Nic; Blender: Steve Saka; Origin: Nic.; MSRP: $8.75

Rating Legend:
0-74 = Unsmokeable
75-79 = Disappointing
80-84 = Average
85-89 = Very Good
90-94 = Excellent
95-100 = Outstanding